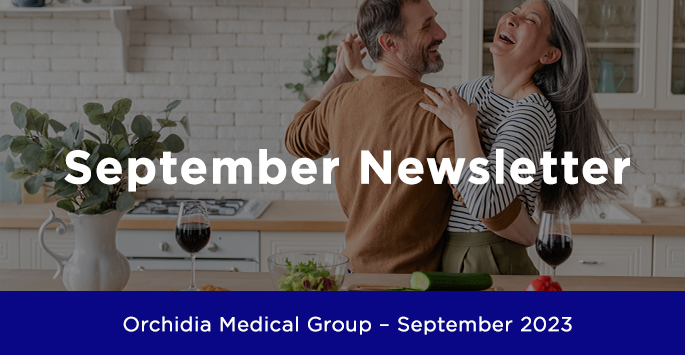 How Orchidia Medical Group Can Help You
Improve Your Sexual Performance
Having erection trouble from time to time isn't necessarily a cause for concern.
If erectile dysfunction is an ongoing issue, however, it can cause stress, affect your self-confidence, and contribute to relationship problems. Problems getting or keeping an erection can also be a sign of an underlying health condition that needs treatment and a risk factor for heart disease.
If you're concerned about erectile dysfunction, talk to our team at Orchidia Medical Group.   There is zero need to be embarrassed. Sometimes, treating an underlying condition is enough to reverse erectile dysfunction. In other cases, medications or other direct treatments might be needed.  We have several options to address the underlying issues.  There is no one size fits all treatment, but there are options for everyone.
In many cases, erectile dysfunction is caused by something physical.
Common causes include:
• Heart disease
• Clogged blood vessels (atherosclerosis)
• High cholesterol
• High blood pressure
• Diabetes
• Obesity
• Metabolic syndrome — a condition involving increased blood pressure, high insulin levels, body fat around the waist and high cholesterol
• Parkinson's disease
• Multiple sclerosis
• Certain prescription medications
• Tobacco use
• Peyronie's disease — development of scar tissue inside the penis
• Alcoholism and other forms of substance abuse
• Sleep disorders
• Treatments for prostate cancer or enlarged prostate
• Surgeries or injuries that affect the pelvic area or spinal cord
• Low testosterone
At Orchidia Medical, we offer four different treatments
to address erectile dysfunction.  
• GAINSWave® is a therapy utilizing low-intensity extracorporeal shockwave therapy to optimize men's sexual health and performance. Shockwave therapy is an acoustic wave that, when applied to the soft tissue of the male genitals, results in the repair of existing blood vessels and the growth of new blood vessels. This protocol allows the penis to accept more blood, leading to better quality erections.
The science behind GAINSWave® reveals benefits lasting up to 2 years. However, patients can continue to receive treatments ongoing as part of the GAINSWave® maintenance protocol. Compounding benefit not only helps maintain the results, but clients have also reported continued improvement and enhanced sexual performance.
• P-Shots with Platelet Rich Plasma are non-surgical, minimally invasive treatments that can help reduce the frustrating side effects of erectile dysfunction and promote male enhancement. The Priapus Shot®, or the P-Shot®, uses PRP, or platelet-rich plasma, to encourage natural body growth processes.  There is no set downtime associated with this non-surgical, minimally invasive treatment option. You should be able to return to your normal daily activities after a treatment session, and you may experience results and a spontaneous erection within 24 hours of treatment!
The P-Shot® with Regenerative Medicine, or Priapus Shot, is a popular sexual rejuvenation treatment for men. This non-surgical treatment harnesses the abilities of your body's natural growth factors to reduce the effects of erectile dysfunction and promote male enhancement.  Our professional staff in Naples performs the P-Shot with regenerative medicine with regenerative medicine from Wharton's jelly from Predictive Biotech. These ethically sourced regenerative medicine cells are collected from this umbilical cord layer. These cells can protect and cushion the area as well as promote regenerative processes.  Results achieved with the P-Shot with regenerative medicine will vary for each person. However, some initial results may be enjoyed shortly after treatment. These results will gradually improve as your body responds to the growth factors. With a series of regular treatments, optimal results may last up to 18 months.
• Bocox™ – When it comes to men's sexual health, the Bocox™ procedure has emerged as a revolutionary technique utilizing Botox® injections to improve penis health and function. Botox®, commonly known for its cosmetic applications, is now being employed as a minimally invasive solution to address various sexual concerns. In this article, we will delve into the details of the Bocox™ procedure, its potential benefits, and what men need to know about this innovative approach to enhancing their sexual well-being.
Understanding the Bocox™ Procedure 
The Bocox™ procedure is a specialized technique that involves injecting Botox, a purified form of the botulinum toxin, into specific areas of the penis. The injections are strategically administered to target the smooth muscle tissue responsible for erectile function. By temporarily relaxing these muscles, Botox can alleviate conditions such as erectile dysfunction (ED), Peyronie's disease, and premature ejaculation. This groundbreaking procedure offers a non-surgical alternative to traditional treatment options, providing men with a safe and effective solution for improving their sexual health.
Benefits of the Bocox™ Procedure
The Bocox™ procedure offers several potential benefits for men experiencing sexual health issues. Primarily, it can aid in the treatment of erectile dysfunction by promoting better blood flow and relaxation of the penile muscles. Additionally, Botox injections can address the symptoms of Peyronie's disease, a condition characterized by the abnormal curvature of the penis, by relaxing the affected area and reducing pain during intercourse. Moreover, the Bocox procedure has shown promising results in combating premature ejaculation, extending sexual stamina, and enhancing overall sexual satisfaction. These benefits make the Bocox procedure an appealing option for men seeking to improve their sexual performance and regain confidence in the bedroom.
---
Orchidia Medical Group
Our mission is to utilize the latest in medical science and apply this with the simple understanding that you want to look, feel, and live better. Let us help you realize your potential well-being and become the individual that you have long desired. Your well-being is worth it!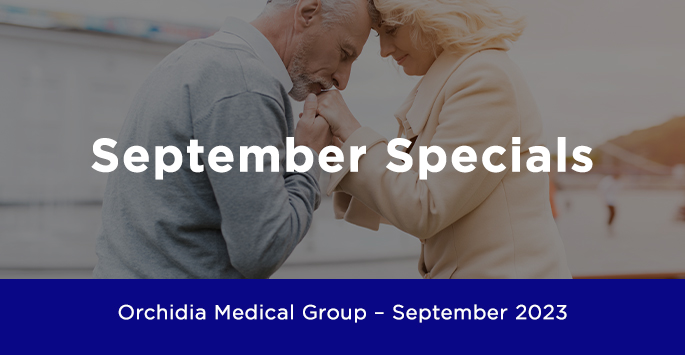 Three Gainswave Treatments
$1350
1/2 Off Bocox
When you purchase P-Shot Regenerative Medicine
Dysport:
Get 50 Units for $225
Call us today at 239-330-9855 or visit us online at OrchidiaMedicalGroup.com